The Oakland Express at the Oakland B&O Museum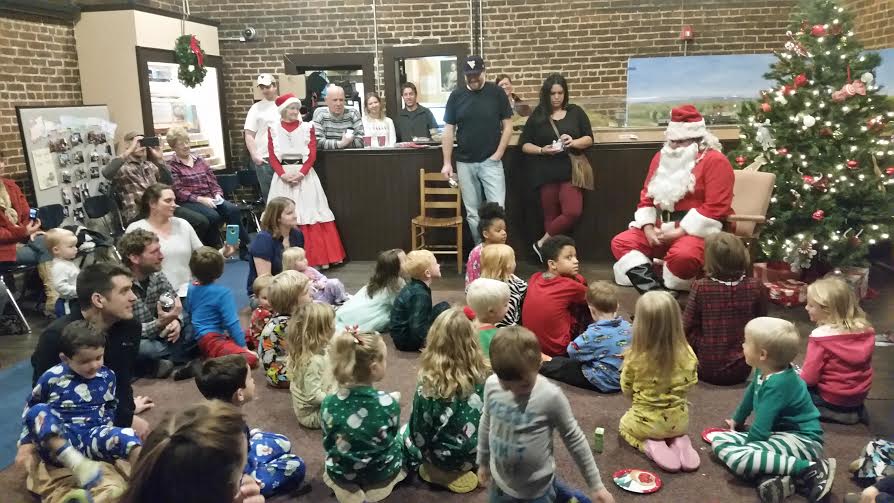 ​The Oakland B&O Museum will be part of a Great Small Town Christmas this year on Saturday, December 9 and Saturday, December 16 from 5:30pm-7:30pm. This is for children ages 4-9. The event is free, but donations are always appreciated. The children are invited to come in thier pajamas. They will take part in a craft, have cookies, get to see Santa and get a treat bag. There is limited space for this event. Please call Michelle Ross at 301-334-2691 to make a reservation. RESERVATIONS ARE REQUIRED. We invite the parents to tour the station and enjoy some treats for yourself while your children are in the North Pole (classroom). This will be an experience your child will never forget!!!
---
March, April and May events:
*Arriving soon, on loan from the Baltimore B&O Museum - 1877 Railroad Strike display
*Soon to be delivered: Our mannequins being worked on by Our Town Theater. John Work Garrett, Mary Garrett and General George Crook.
*Book Signing by Bruce Elliott, Green Bank, WV on 4/15 from 11:00 – 3:00. The Baltimore & Ohio Railroad's Pittsburgh Division.
*Dr. Neal Brooks Adult Continuing Education classes 4/27, 5/4, 5/11, 5/18. Railroads of Garrett County. 4:00 – 5:30. Contact Garrett College continuing education department to enroll.
*Soon to open: Our Second Floor railroad library with books, magazines, CD's, and slides. We will need people to help volunteer on the second floor when it is opened to the public.
*Billing for the $10 Annual Dues for Friends of the B&O Railroad Station Museum went out by email and regular mail for those that don't get email. For those that want to also contribute $25, $50, $100, $250, $500 and up to All Aboard that will include your $10 dues. Please advise if you did not receive your bill.
*Potential to receive mural of the Baltimore & Ohio Railroad "Lafayette" steam engine.
* Mayor Peggy Jamison submitted Heritage Grant to do a feasibility study of AMTRAK from DC to Oakland and an annual fall foliage train from Cumberland to Oakland the first Saturday of October.

Newest volunteers: Dan Cullather, Scott Johnson, Jim Logan, Tom Sheehan, Michael
Deem.
---
Greetings to all of those who contributed to the cost of erecting the signal,
​The museum committee and the people of Garrett County are grateful for your contributions to the work to set up the signal next to the siding at the station. The folks in the attached picture are left to right, Bob Shaffer, Museum Committee (MC), Allegany Welding employee (AW), Matt Scheffel, AW, George Scheffel AW, Allegany Welding employee (AW), Larry Hileman MC, Morgan France, MC.
Allegany Welding was helpful throughout the restoration of the signal. They provided lifting service as needed and put the final coat of paint on the signal. Frank Arnold Contractors built the base for the signal and installed the underground electrical conduit. Evergreen Electric in the person of Steve Huntt did the wiring. The signal controls were provided by Josh Wotring. Geof Day helped Bob and Larry throughout the work.
The entire project has been underwritten by donations from the local community. Thanks to all who helped.

---